Introducing.....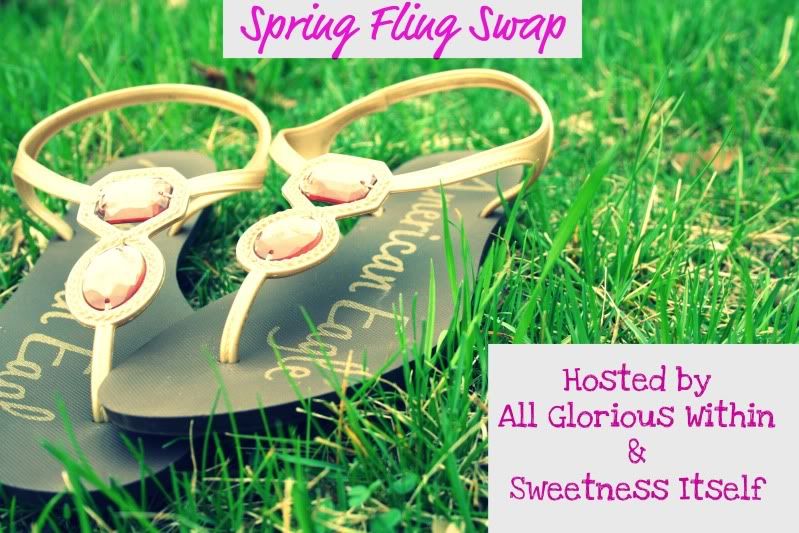 Spring Fling Swap
has been created to celebrate the arrival of
Spring (finally!) by making a new friend in the blogging world & sending
them some encouragement.
Don't you guys love meeting new people and sending them some love?
Your package should include a pair of flip flops and other items you think they might like! We want encouragement to be the main goal here, so please make sure you are able to
meet all the requirements before you sign up.
We are closing this at 100 participants, so sign up now!
Erin & L will pair you up
randomly with one partner who you will send and receive a package from.
Hopefully you guys will become friends through this!
·
Sign-up remains open until

April 6th

(sooner if all 100
spaces are filled).
·
We will email you guys your partner info by

April 9th

.
·
IMPORTANT:
Your package should be mailed by

April 30th

.



·
May 11th
We want you
guys to link up on Erin's Blog and show us what you guys got in your wonderful
packages.
Erin & L made the tough decision to close this swap to US residents only.
We are extremely sorry if you live overseas.
We are both pretty busy at this season in life and felt it
wouldn't be fair to include this option as we feel unable to give the extra
time commitment this would require.
1.
Active Blog in 2012 to participate
2.
Must be a US resident.
3
. Please spend between $25-30 on
the goodies in your package. You may include handmade items (i.e. from your own
store) but keep the value within the guideline.
4. Please do not participate if you don't feel you will be able to stick to the timeline.
We want everyone who sends a package of love to receive one back.
5. We are limiting this swap to 100 people. So sign up now!
Please click HERE and fill out the form.
All the info will be emailed to us
and we can start pairing you guys up!
If you decide to participate, grab our button & stick it on your blog
letting people know you are taking part!
Anything we didn't cover?
Email us at

springflingswap@gmail. com
Be sure to
stop by

L's blog

today at All Glorious Within =)
We would love to meet you guys through all this fun =)
We are so excited! We have been giggling and squealing! =)
Leave us a comment below and let us know if
you are participating.