My sweet readers!
Thank you for being patient while I rode out the "wave" of what's been lovingly known as the funk. It's over now, I believe. I've spent this week thinking about some big things, praying through blogging, and am freshly inspired to dive headfirst, fearless into writing, blogging...and in the next weeks, I am going to share something exciting with you - a new project that the Lord has put on my heart!!
Until then, I have a new friend for you to meet and embrace. She is lovely and has a beautiful heart. I so encourage you to go over to her blog and say hi, follow her, and take time to read some of her posts. If you're looking for real community, blogs that encourage you, and like-minded sisters who will lift you up - she is someone to get to know. Friends, we can't go at this alone. We need others who can lift us up, encourage us, point us to Jesus when we feel down. I call it "the net". Last week, I tweeted a cry for prayer and I instantly received THE most kind, loving, and thoughtful e-mail from the writer of the blog I am about to share with you. On The Heights is a rare gem, and Diana is a beautiful person. Take a moment to read her heart here. And visit her blog. I've disabled comments on this post so that you can go share some love on her blog. Without further adieu, meet Diana: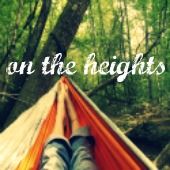 1 // tell us all about your encouraging blog and why you chose the name.
i work an office job doing pretty uncreative things all day long.
on the heights
is a space for me to come and create; to share the things that inspire me and to love on people who i may very well never meet in person.
on the heights
is a place for me to share my story as God writes it. and sometimes, it's raw and it's too honest - but God is writing a uniquely beautiful story with my life. so i want to be brave enough to share it.
the name on the heights comes from habakkuk 3:19, my absolute favorite verse in the bible. it reads, the sovereign Lord is my strength; He makes my feet like the deer's feet, He enables me to go on the heights. i read this verse before almost every race i ever ran in college. the thought of God literally guiding my steps has always intrigued and comforted me. i want Him to write my story - to guide my feet to the places He'd have them go.
2 // what is the Lord teaching you right now?
goodness gracious. the Lord is so clearly and so tenderly teaching me patience. patience in finding a new job in charlotte. patience in relationships. patience in progress. patience in success. patience in growth. He is teaching me, that like everything else, this is merely a season of my life. whatever it is a season of, He is nudging me to lean solely on Him. because He alone is enough. everyday, He is enough.
3 // if your life was made into a movie, which actress would you choose to portray you and why? kate hudson. she is hysterical and i feel like we'd (creepily) be best friends, haha. (and i love that andie anderson in how to lose a guy in 10 days is also a writer. so that's a plus!)
4 // if you were stranded on a deserted island and you could only have 3 items, what would you bring?
my bible, something to write with and a charged cell phone with an unlimited data plan.
5 // what is your favorite thing about blogging? what is one tip you can share to help other bloggers? i love that blogging is a true community. when i first started blogging, i must admit that i expected there to be some sense of competition among bloggers - sort of a "my blog is better than your blog" type mentality. i was so pleasantly surprised. i have found nothing but support from bloggy friends and have been so encouraged by the sweetness and serenity by you all. there is such a sense of community here - and i love it! one piece of advice to others bloggers would be to find your voice. i am a firm believer that good writers borrow - but i think it is absolutely essential to adopt your own voice and style on your blog. it's your space to do whatever you want with - be you! i promise you, when you do this, you will feel so much better about your blog - and the support you receive will be so tremendous, you will quickly become more and more comfortable in your own bloggy skin :)
***
Earlier this week, Diana encouraged me with these words and I want to share them with you:
"Sometimes, God breaks me and brings me to an absolute bottom
and it's then that I FINALLY remember,
'Oh yeah. I should be looking UP."
Back again late this weekend to say hi and share Thankful Sweetness lists.
Love and prayers for all in this beautiful community,
Erin
still a few spots open to sponsor with me :)
if you're interested, click

here